Kebabs are indispensable dishes at BBQ parties. To prepare them, you will have to use sticks to fix the meat and vegetables.
These grilling skewers are made of many different materials such as metal, wood, or bamboo. If you use wooden and bamboo products, consider soaking them in water before using them.
So, how long does it take to soak bamboo skewers? You will need to soak wooden sticks in water for at least 30 minutes. That's just enough time for the moisture inside to make them less likely to catch on fire.
How Long To Soak Bamboo Skewers?
The minimum time to soak bamboo sticks in water is about 30 minutes. However, you can also plan ahead and soak them overnight.
This time is not fixed because it will change depending on the user's needs. If you plan to use the sticks on high heat, let them moisten perfectly before baking.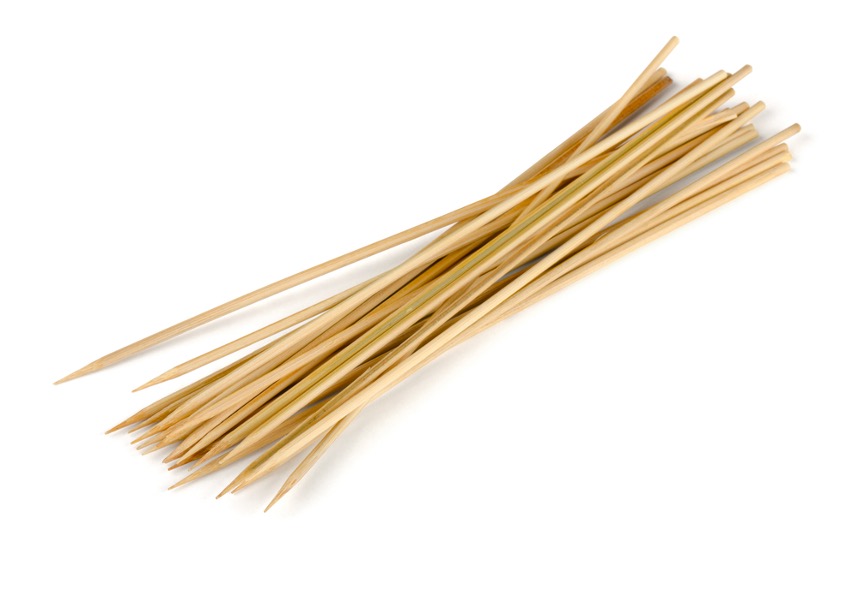 In Water
The time it takes you to soak the sticks in water can vary depending on whether you need them urgently.
If the party is about to start, soak these sticks for 30 minutes.
Lay them flat in a tray with enough water and wait. After enough time, take it all out and skewer the upcoming BBQ menu items.
However, if time is not an issue for you, soaking them a little longer won't hurt. You can soak the sticks overnight or 24 hours before use to ensure they are perfectly moist.
Well-soaked sticks will drain more slowly. As a result, they can stay in the oven longer without burning.
In Marinade
Try seasoning a grilling stick if you want to tweak the recipe a bit. You can use any liquid, not just water.
Soak the bamboo sticks with whatever seasoning you want to add to your barbecue. It will make the taste richer and more delicious right from the inside.
Popular choices are various kinds of vinegar and red wine. They will soften the meat and make it more flavorful.
You can even use a marinade if you want the dish to be more flavorful. Check out the delicious marinade sauce recipe here.
While this is a great method to spice up a dish, it still has some downsides.
The seasoning on the skewers makes them easier to burn than usual. This step also takes a lot of time and effort because you cannot reuse the product.
In addition, it will also cost a lot more if you want to soak a large number of grilling sticks.
What If You Don't Soak The Skewers?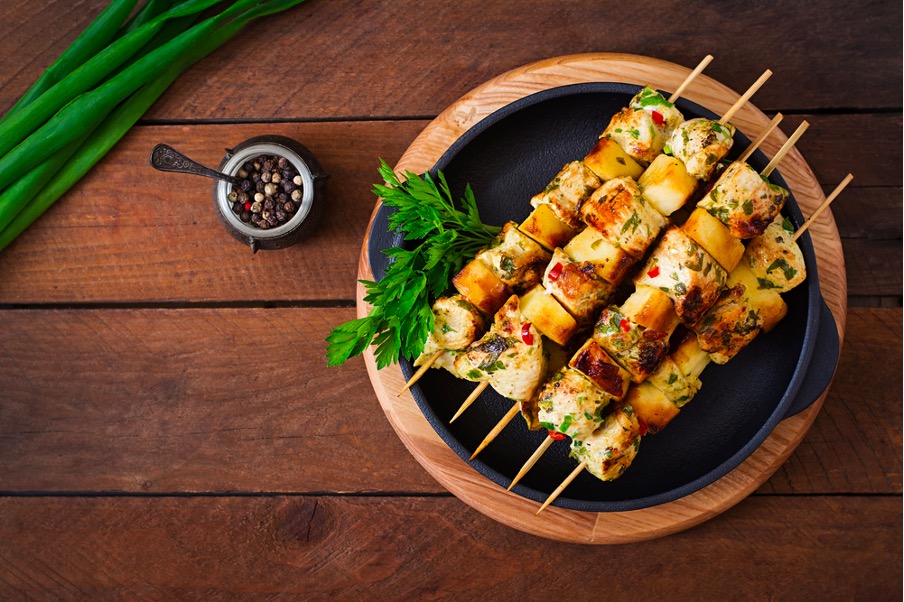 Wood is a flammable substance. Its small and long size also makes the temperature impact faster.
Test cooks and kitchens have shown that fire easily exposes the small piece area at the end. However, the portion covered by the food is usually not affected.
While baking, you should not grip the sticks tightly because they are very fragile and break easily. Instead, use insulated tongs to flip the meat.
You can also use long sticks that extend beyond the grill range. If using a multi-burner grill, place the contacts on the burners turned off or on low heat.
In terms of thickness, the thinner the skewers, the higher the fire potential and vice versa.
To avoid this problem, you need to soak the skewers in water. The moisture inside helps slow the burning process and makes the stick less likely to catch fire.
In addition, it also helps to prevent the skewers from separating when plugged into BBQ ingredients.
How To Soak Wooden Skewers?
You have many simple ways to soak bamboo sticks. Depending on the food, work out the required number of sticks first.
Prepare a few extra sticks to prevent them from breaking during soaking and skewering.
In the first method, prepare a pan large enough and ready with enough warm water to cover the surface. Soak the bamboo skewers for 20 minutes to several hours.
These skewers can float on water. So, use a metal object like a spoon or a cooling rack to push them down.
If you want to soak all the sticks at once, use a large bottle with a capacity of about 2L (8.5 c).
Put all the sticks in the bottle and fill the jar with warm water. Then, cap the bottles to ensure they don't float to the top.
After soaking long enough, remove the sticks and place them on a paper towel to dry temporarily.
Alternative To Soaking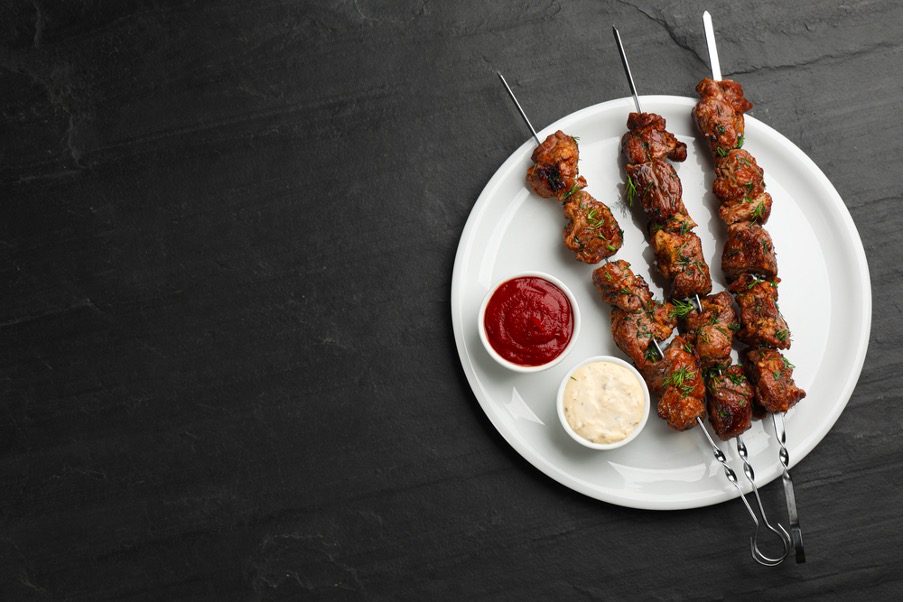 With all the effort, time, and money you have to spend using bamboo skewers, metal sticks may be a more viable option.
This product is the perfect choice for those who frequently make large batches of BBQ because it is reusable. Plus, these sticks won't catch fire.
Remember that metal can get very hot when exposed to high temperatures. So, wear heat-resistant gloves when cooking to avoid burns.
You can find a wide variety of metal skewers on the market. The best ones have just the right length and flat edges for better food penetration and less slippage.
If preparing the skewers takes a long time, and you're in a hurry, use a foil packet or a baking basket.
The process of baking foil is quite simple. You need to spread a layer of foil and place the vegetables and meat on it.
Then, pour seasoning, sauce, and a little oil on the surface and wrap the paper tightly. Although you won't find it scorching hot, the smoky flavor permeates the dish.
With the grill basket method, you need to layer the food in the basket and start baking.
Conclusion
You can soak bamboo sticks in water for at least 30 minutes. If you have a lot of time, prepare them overnight for better performance.
For gourmets, the use of wine and vinegar instead of water will make the food taste richer and have more beautiful colors.
An alternative for those who regularly grill kebabs in bulk is metal skewers. This product is reusable and available in many models on the market.
At the end of the day, the decision is still yours. Please make the choice that best suits your needs.
Help Us! Share on: